At Make Tracks, we can organise walking tours for all types and sizes of groups
Hiking, hillwalking and other clubs
Corporate groups
Large family groups
Groups of friends
Organising walking holidays for big groups can take a lot of time and effort - usually done by a club secretary, the boss's PA, or perhaps the family member who volunteers at the Christmas party, then regrets it in the New Year. Make Tracks can make this task a lot easier, using all our previous experience and local knowledge, taking care of all the aggravating details, and working with you to organise a walking holiday that is exactly right for your group. Just contact us with your ideas and we will work with you to create that bespoke experience. Or perhaps you prefer to opt for one of the ready made tours below?
A greatest hits selection from the West Highland Way and some of the great mountains along the route. This combines self guided walking on the best sections of Scotland's best loved walking route with guided walks to the summits of three iconic Munros along the route, including Ben Nevis. You will stay in comfortable hotels, frequented by the adventurers who come from all over the world to climb in the Scottish mountains. Along the way, you will walk along the banks of Loch Lomond, stay amidst the grandeur of Glencoe, be guided on climbs up Ben Lomond and the famous Buchaille Etive Mor, and cross the Devil's Staircase. Your holiday culminates in the guided climb of Britain's highest mountain, Ben Nevis.
For groups of 8 or more. We arrange all of the accommodation and transport from Glasgow or Edinburgh (airports or train stations). Price for 7 night tour - £ per person. For more details, click the button below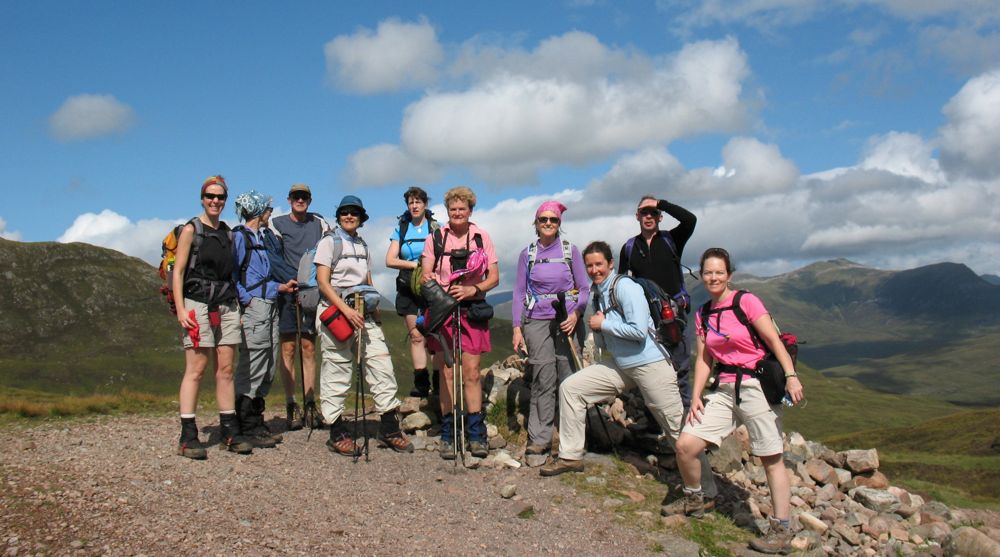 On the Devil's Staircase - photo Sam Jamke
Malts, Hops and Hikes - The Speyside Way + Whisky
Any whisky expert will tell you that the malts made on Speyside are the very best in mainland Scotland. Names like Glenfiddich, Glenlivet and Macallan are almost sacred to connoiseurs, and they are all clustered along one of Scotland's finest rivers. Together with dozens of other distilleries along the river, they produce the finest malt whiskies in the world.
By good fortune, this is also a great area for walking. The Speyside Way is a great long distance path, and the area has a variety of walks to offer, from mountain walks to more gentle riverside walks.
On this tour, your group can enjoy visiting and sampling the wares from some of these great distilleries, and also enjoy all that's on offer in the great Scottish outdoors.
The itineraries and accommodation are variable to suit the size of your group and budget, and your schedule.